Global Research Nurses is a proud supporter of the Nursing Now Challenge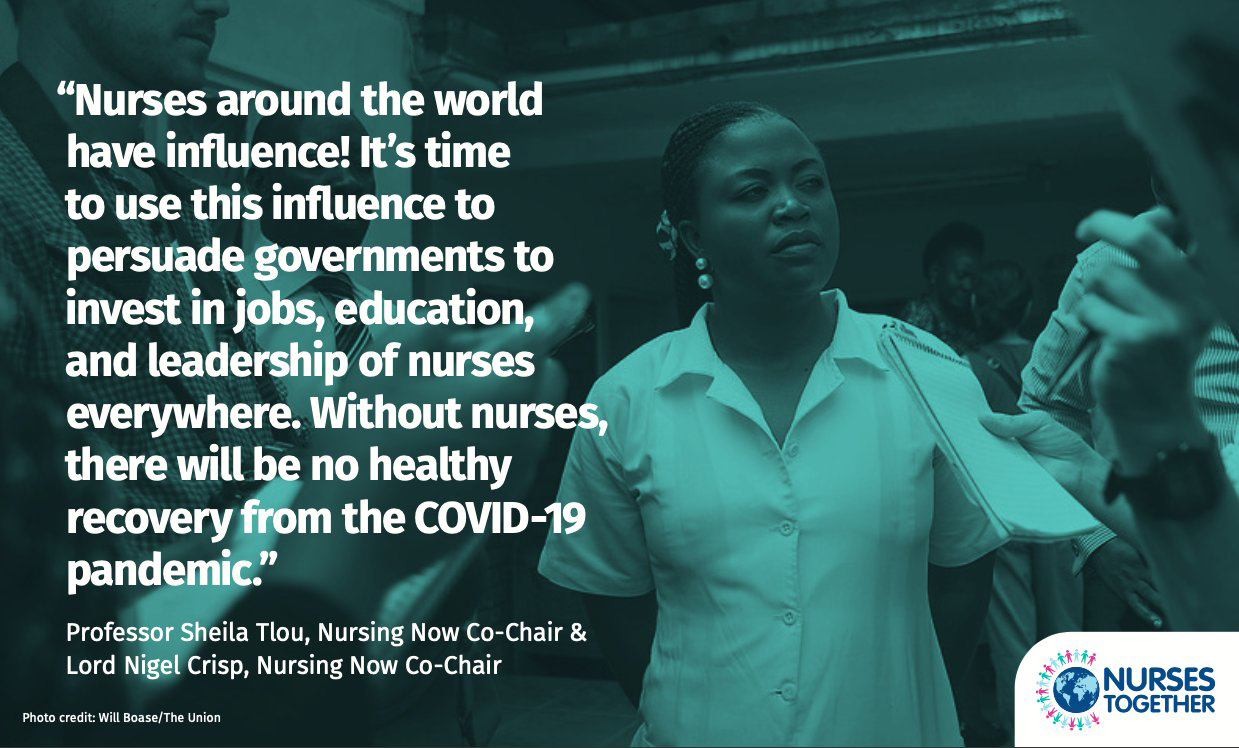 Nursing Now Challenge is a global campaign that aims to improve health by raising the status and profile of nursing and midwifery. Run in collaboration with the World Health Organization and the International Council of Nurses, Nursing Now seeks to empower nurses to take their place at the heart of tackling 21st Century health challenges and maximize their contribution to achieving Universal Health Coverage.
Even in the middle of a global pandemic, we have an opportunity to shine a spotlight on what nurses and midwives can do to achieve universal health coverage for all and to expand primary health care. We need to make a solid case to government leaders to invest in our professions as a way to achieving global health targets for our countries.
Nursing Now's aim is to advocate for nurses everywhere, using the evidence – and most importantly your voices. We have much to discuss at those top tables – we need more nurses urgently; we must reward the nurses we have if they are to stay in the profession and we must invest in nurse education to prepare more nurses for the future. There is strong data in the 2020 State of the World's Nursing report that supports our case for investment. It is imperative that we use it to get the results we urgently need.
June 2021 marked a new beginning for the Nightingale Challenge as it becomes the "Nursing Now Challenge", under the continued leadership of Professor Lisa Bayliss-Pratt at Coventry University, in partnership with Health Education England, THET and funded by The Burdett Trust for Nursing. The Nursing Now Challenge (NNC) will carry forward the ambitious mandate of the Nightingale Challenge, and will work with health employers around the world to create leadership development opportunities for 100,000 nurses and midwives in more than 150 countries by the end of 2022.
WISH sponsors Nursing Now Challenge Global Solutions Initiatives on climate change and digital health
At "Nurses at the forefront of change: challenging the status quo" event co-hosted by WISH and the Nursing Now Challenge, two new Nursing Now Global Solutions challenges were announced with the prize of $1,000 for the chosen winners.
Over the next two months, in collaboration with the World Innovation Summit for Health – Qatar, we will run two NNCGSI challenges that focus on the role of nurses in addressing climate change and promoting digital health.
Challenge 1:

Develop an innovative approach to addressing climate change in your role as a nurse.

Deadline: 11th August 2021

Challenge 2:

Develop an innovative approach that uses at least one digital technology to improve person-centred care.

Deadline: 20th August 2021
To read how to develop your solution, please click here.
"The Nursing Now campaign has shone a spotlight on nursing for the last three years and created a powerful network of nurses around the world. The Nursing Now Challenge will build on this legacy at a time when the pandemic has shown how vital nursing is in all aspects of health and health care." Lord Nigel Crisp, Nursing Now Co-Chair.
Nursing Now is a programme of the Burdett Trust for Nursing run in collaboration with the World Health Organization and the International Council of Nurses, and is supported by a Campaign Board made up of nurses and non-nurses from around the world.
---
Please share!
Visit our Featured Members page to share your research nursing practice, how this already contributed, or would contribute, to policy making, disease prevention, health promotion or innovation in health care.
We look forward to hearing from you!

"The Burdett Trust looks forward to continuing its support for nurse-led projects, working independently and with its funding partners to improve patient care."