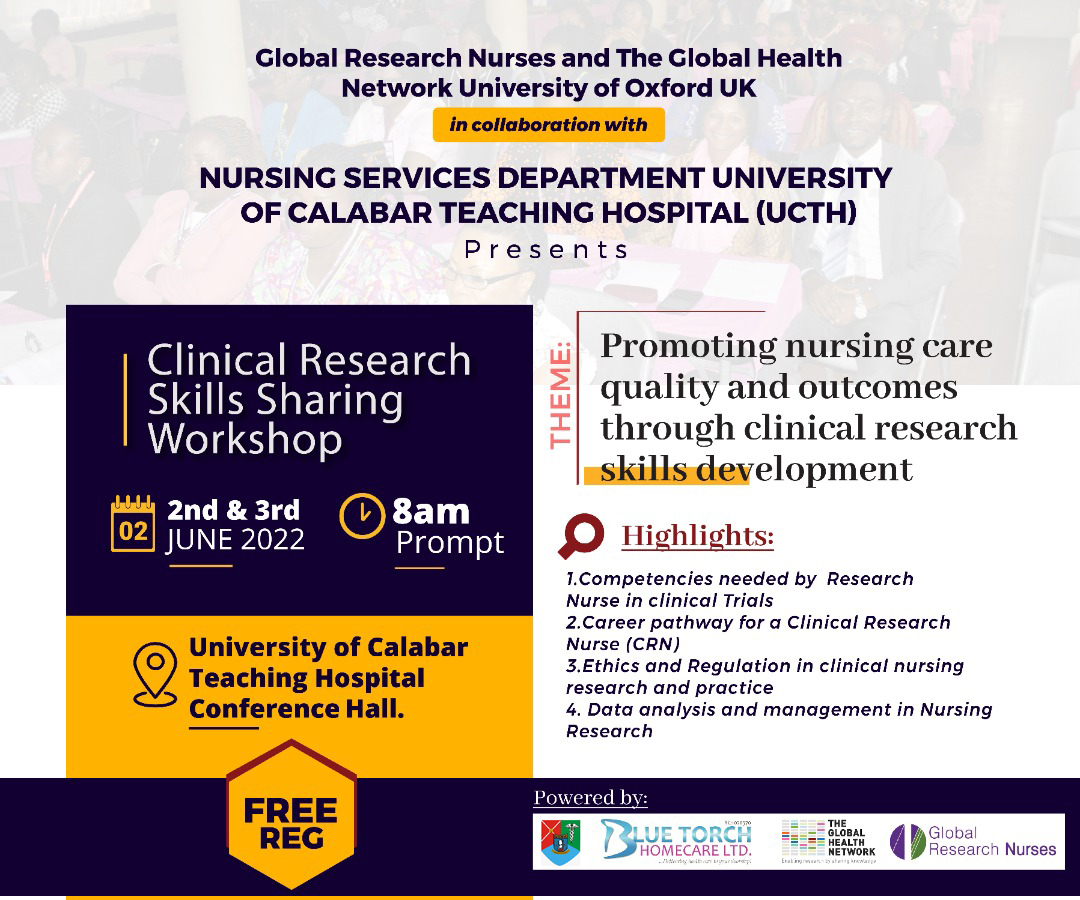 Promoting nursing care quality and outcomes through clinical research skills development - Face to Face workshop
2nd-3rd June 2022
University of Calabar Teaching Hospital Conference Hall, Nigeria
Global Research Nurses and The Global Health Network, University of Oxford, UK, in collaboration with the Nursing services department University of Calabar Teaching Hospital (UCTH) invites all research and clinical research nurses within Nigeria to register and participate in the upcoming free Global Research Nurses (GRN) Clinical research skills-sharing workshop.
Speakers will include local experienced research nurses and independent/freelance nursing research tutors.
The nursing profession must continue to adapt to the complexities of modern healthcare delivering consistently excellent care. Research is the key, as it is in any professional field, to advance and improve practice. Evidence from research influences and shapes the nursing profession, informs and underpins policy, professional decision-making and nursing actions. But to continue to have evidence-based practice, we need new evidence. Only high-quality nurse-led research can deliver this new knowledge and practice, ultimately transforming care. To keep improving patient and health outcomes care nurses must lead in research. Nurse-led research brings about better understanding of the needs of patients and service users, delivers interventions and innovations that improve practice and we all benefit from this.
Join Global Research Nurses on this two-day free face-to-face workshop for nurses and midwives that aims to promote nursing care quality and outcomes through the development of clinical research skills.
---
Workshop aims:
To improve the research knowledge amongst research nurses, including clinical nurse practitioners in Southern Nigeria
To equip nurses with clinical research skills and hence improve patience care experiences
To discuss the essential contribution of nurses in research across the board, including advancing patient management through active clinical research
To further build and strengthen the community of clinical research nurses as well as improve visibility of Global Research Nurses (GRN) in Nigeria and Africa
To expose nurses to tools of research findings dissemination and improve visibility of nurses' research studies.