Refocusing nursing practices through clinical research in times of global crisis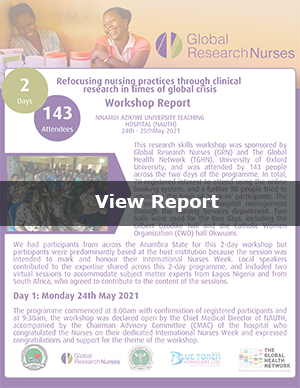 24-25th May 2021
Nursing Services Department, Nnamdi Azikiwe University Teaching Hospital (NAUTH), Nnewi
As part of International Nurses Week 2021 celebrations, which is an event for nurses worldwide, Global Research Nurses collaborated with the Nursing Services Department of Nnamdi Azikiwe University Teaching Hospital (NAUTH), Nnewi, to train nurses in clinical research skills, to strengthen the clinical research and provision of evidence-based practice within their clinical practice settings.
This workshop sought to create an avenue for nurses to learn basic skills for clinical research and hence promote the work and relevance of Clinical Research Nurses (CRN). In doing so we will improve research knowledge amongst research nurses, including clinical nurse practitioners, and encourage evidence-based clinical practices. Research-related discussions focused on advancing disease management through active clinical research.
Participants learnt from experienced speakers in the field of clinical research, and through the objectives of the session became more familiar with clinical trial design and conduct to enhance a group of Clinical Research Nurses in Nigeria.
---
Workshop learning objectives
This workshop aimed to equip participants with:
Enhanced practical knowledge of clinical research skills amongst nurses
The processes of disseminating research findings through various channels available and publishing research findings
How to use data collection tools and methods of data analysis in clinical research
An understanding for the various roles that nurses can play in clinical trials settings
The principles for developing and setting robust research questions with global relevance through clinical nursing practice
---
Download the workshop presentations
---
View workshop gallery