Webinar 6 Sep 2022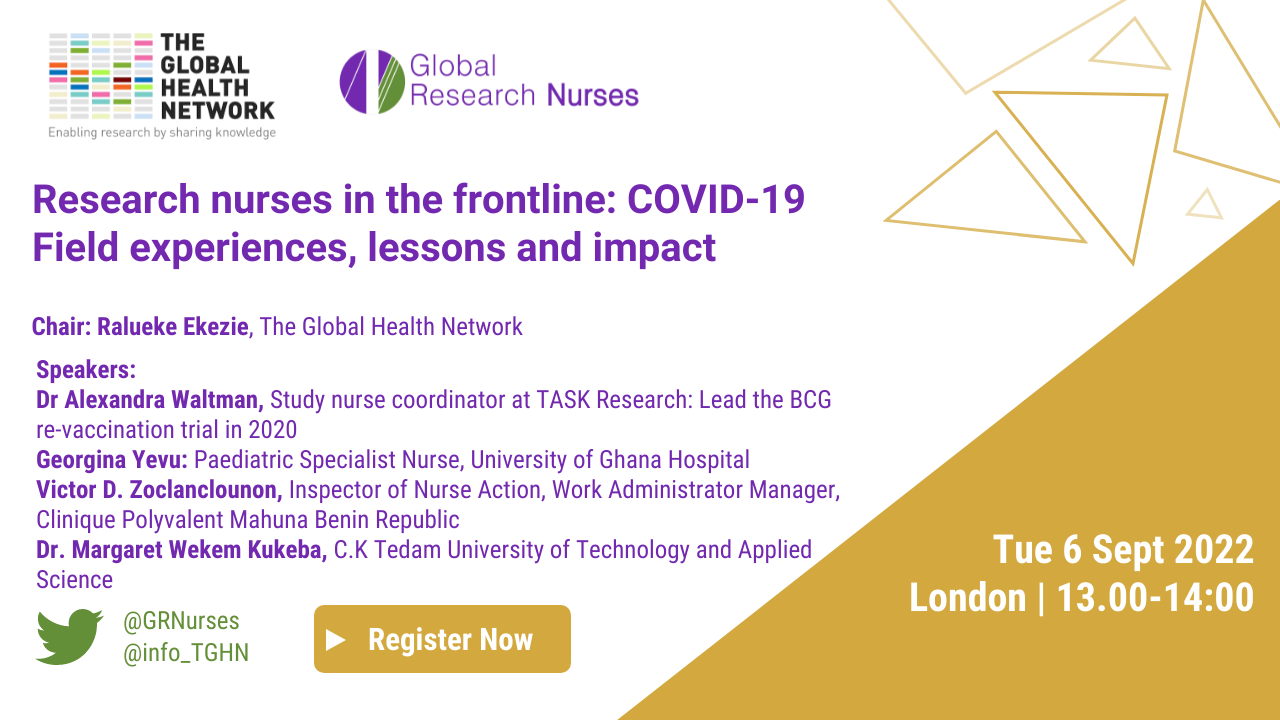 The effect of COVID-19 and its ripple effects are still being felt across virtually all health systems. Nurses as one of the most affected healthcare workers need a documentary of experiences and lessons being learnt on in the field of research, clinical settings, home care settings and many other fronts where nursing activities are being carried out. This webinar will be organized by Global Research Nurses and The Global Health Network in collaboration with African Nurses and Midwives Network and Blue Torch Home Care Limited.
This event will be a venue for nurses to showcase their contributions during this pandemic.
---
Webinar objectives
To create a channel for nurses to share their frontline experience with COVID-19 as research nurses and as health workers.
To discuss COVID-19 nurses case studies from the African nurse perspectives, compare with other works and share the lessons learnt
To discuss the essential contribution of nurses during COVID-19 pandemic and its impact on the health system.
To discuss skills required by a frontline Clinical research nurse in COVID-19 research settings
Programme
Sessions
There is always a plan to be made
Dr. Alexandra Waltman: Study nurse coordinator at TASK Research: Lead the BCG re-vaccination trial in 2020.
Family Caregivers situational factors and perceived functional Roles in Caring for Preterm Babies in Ghana during the COVID-19 Crisis
Georgina Yevu: Peadiatric Specialist Nurse, University of Ghana Hospital
Life quality of Kidney Failure COVID-19 Patients under Dialysis
Victor D. Zoclanclounon, Inspector of Nurse Action, Work Administrator Manager, Clinique Polyvalent Mahuna Benin Republic
Adverse events after receiving the first dose of the COVID-19 vaccine in the Northern Region of Ghana
Dr. Margaret Wekem Kukeba, C.K Tedam University of Technology and Applied Science, Ghana